14 June 17:15 – 18:45:
Musical quality (changes of dynamics, musical interpretation, ornaments). The purpose is to start feeling the music as a dance generator. We will learn to feel different musical instruments and to connect musical movements to corporal movements. We will shed light on how to get on changing dynamics and how to move yourself with the music (ornaments). To conclude, we will put on practice this with a particular sequence and diferents orchestras.
15 June 19:45-21:15 :
Improvisation (Structured/Broken structured)
Dedicate to dancers who like to rutle up and prefer the free movement to remember long sequences.
We will work from the well-known movements to explore individual options, trying to find out our personal taste, our style. The subject is look for differents options from some specific movements and work with peculiar guidelines to grow up the personal creativity.
Nivå: For alle
Påmelding:
Ikke nødvendig! Bare kom! Med eller uten partner.
Priser og betaling:
Kr 150,- per person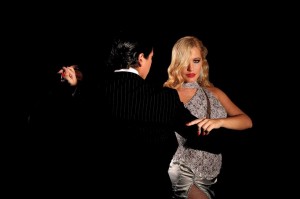 MARICEL GIACOMINI began her dance training at the age of 3. After being trained in differet dances, at the age of 15 she began in Tango and Argentinian Folklore. She was asked to join «Danza y Amistad Company» at the age of 18, participating in many show in Buenos Aires.
After intense research, gathering information and experience from different teachers, she concentrated in tango dance and teaching.
In 2006 she won the Metropolitan Vice Championship award in Tango Salon , and in 2008 the World Vice Tango Championship award in Stage Tango. From 2006 onwards, Maricel tourned across the world performing and teaching tango. She is regularly performing in tango shows in Buenos Aires , such as: Cafe Tortoni, La Cumparsita, Tango Palace and Catulo Tango. Marcel has also made appearances as a dancer and coucher in Argentinian movies: «La suerte esta hechada» and «Buenos Aires Ghosts».
Since 2012 Maricel has been working with «Sidi Larbi Cherkoaui» as part of the original company to mount «Mi¡longa». «Mi¡longa» performed for the first time in 2013 and currently round over the world.
As a teacher, Maricel worked in the most important school in Buenos Aires: Carlos Copello's Tango School (2005-2007), Argentinian Tango School (2008-2009), La Viruta Tango (from 2009 until now), furthermore Maricel gives workshop in Argentina and the world.