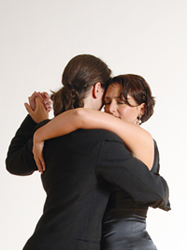 Melina Sedó og Detlef Engel har vært flere ganger i Norge og er på reise hele året til forskjellige klubber over hele verden, men mest i Europa.
Vi gleder oss til denne weekenden, så hold av datoen!
Melina og Detlef er stilistisk hjemme i den tradisjonelle Tango de Salon, slik den danses i Buenos Aires og som de formidler på en meget personlig – men moderne måte.
Deres dans fascinerer gjennom embrace, lekende musikalitet og eleganse: her er ingen overfladiske effekter, uten klisjeer. Dansen deres uttrykker ikke bare musikken, men deres genuine følelser.
PROGRAM
Fredag 5.oktober
18.00 – 19.30 Caminar abrazados – Walking in an embrace (Viktig intro for resten av helgen)
19.30 – 21.00 Rythm, syncopation and upbeat (Musikalitet del 1)
21.00 – 01.00 Fredagsmilonga med DJ Melina Sédo
Lørdag 6.oktober
12.00 – 13.30 Phrase and melody (Musikalitet del 2)
14.00 – 15:30 Vals – The Music
16.00 – 17.30 Improvisation with pivots, ochos and linear turns.
20.00 – 01.00 Ekstramilonga med Demo av Melina og Detlef. DJ Anne Lise
Søndag 7.oktober
12.30 – 14.00 Tango Milonguero – Dancing like in Buenos Aires
14.30 – 16.00 Elegant movements – Our favourite steps
16.00 – 17.30 Rythmic turns in the parallell system
18.00 – 22.00 Søndagsmilonga med DJ Myriam
Pris per person er: 200,- for enkelklasse og 350,- for dobbelklasse.
Påmelding og betaling i PAR på deltager.no:
https://www.deltager.no/melina_sedo_og_detlef_engel_h2012
Sted: Jekteviken, Bergen
Maks 12 par per kurs.