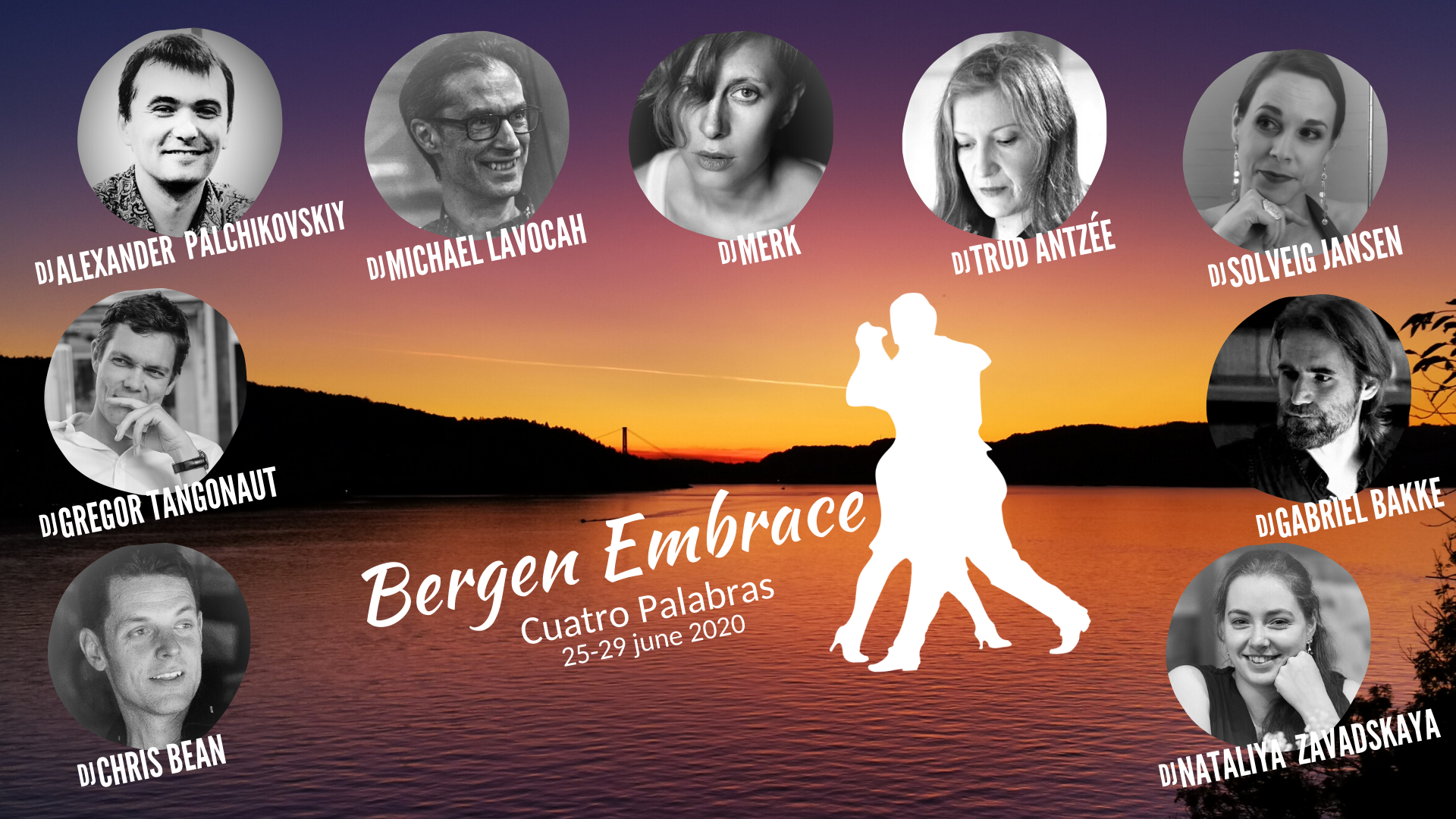 «Que te vaya bien» – I wish you well. Four words. Cuatro palabras.
Welcome (back) to Bergen Embrace! The fourth edition. In a city rumored for its rain, your chances to see the sun in summer are pretty good. In any case, anyone who says sunshine brings happiness, has never danced in the rain! We advise you to take some extra days to explore Bergen, the fjords and other spectacular pieces of Norwegian nature. And you don't want to miss the Monday epically special event: La Fiordlonga.
REGISTRATION FROM FRIDAY JANUARY 24th.
The registration is not based on first come first served, so no stress. We will process all registrations submitted in the first two weeks, on an equal basis.
Tango Abrazo strives for an inclusive environment where all members and visitors treat each other with respect. Bergen Embrace is role balanced. Dual role dancers and leaders and followers of all genders and ages are warmly welcome.
Bergen Embrace takes place in Grand Hotel Terminus' large wooden floor hall, located in the centre of Bergen. Participants may choose to sleep and eat at this hotel, or at Zander K next door (same owners). Norway has a reputation for being outrageously expensive, which is sadly true. However, if you stay away from fancy cocktails, foie gras, ecological polar bear meat and non-electric sports cars, you'll be fine.
PROGRAM (changes might occur):
Thursday June 25th, PREPARTY: Tango Abrazo (Jekteviken 5)
20-01: DJ Chris Bean
Friday June 26th, Hall Terminus
14-18: DJ Gregor Tangonaut
21-02: DJ Alexander Palchikovski
Saturday June 27th, Hall Terminus
14-18: DJ Michael Lavocah
21-02: DJ Merk
Sunday June 28th, Hall Terminus
14-18: DJ Trud Antzèe
21-01: DJ Solveig Jansen
Monday June 29th, «FIORDLONGA»
1200-1330 Boat trip (registration only)
1330-1500 Light meal (registration only)
1500-2030 DJ Gabriel Bakke
Tuesday June 30th afterparty in Jekteviken
1900-2300 DJ Nataliya Zavadskaya
This is a role-balanced event for close-embrace lovers, where we use mirada/cabeceo and clear the floor and change partner during cortinas. You may sit wherever you like. Smiling is encouraged and assumed to happen frequently.
The price, NOK 1200 (about €120), includes seven milongas; six at the Hotel Grand Terminus plus Thursday's preparty. Free coffee, tea and some snacks provided.
There will be around 150 dancers for the Friday-Sunday main event. To assure role balance, we encourage registration in pairs. There will be a single and dual role registration option, and we will match leaders and followers as far as we can.
We aim to create a warm event with dance generosity and geographical diversity, for experienced dancers.
ACCOMMODATION:
Rooms are held until a month before at the venue Grand Hotel Terminus and at Hotel Zander K next door. Special event price is NOK 1050/1250 for singles/doubles with breakfast. When your registration has been confirmed, you will get a booking code. There are other, budget options nearby, or you can get an airbnb.
We advise you not to purchase tickets or accomodation before your registration has been accepted.
Do you have questions? Please contact us at bergenembrace@gmail.com
Abrazos from the fabulous Bergen Embrace team:
Dag Stenvoll
Christine Jacobsen
Bogdan Ududec
Ina Gabrielle Johansen
Solveig Hisdal
Jonny Kvamme