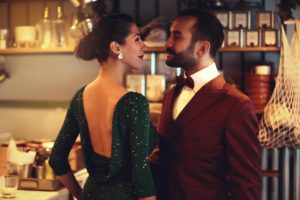 I samarbeid med Irem Öztürk og Gøran Eliassen arrangerer vi tangohelg med fantastiske gjesteinstruktører fra Istanbul, Zeynep Aktar & Sercan Yigit, 23.- 25. september.
Vi har satt sammen et spennende program med teknikk-klasser, musikalitet, nyttige tips for både ganske ferske og mer øvede dansere. Gå ikke glipp av denne muligheten!!
Sercan har musikalsk bakgrunn og Zeynep fra teater, og de er særlig kjent for sin gode kommunikasjon med sine tango-elever. » Both in their dance and their lifestyle, as a couple Sercan and Zeynep have a distinctive point of view embracing communication and innovation, always reminding the lively, respiring «human touch» of the tango dance. » Les mer om dem nedenfor og se video! Men nå til programmet:
23. September Fredag:
18.00-19.30 : Kvinneteknikk-klasse del 1
19.35-21.00 : How to survive a milonga ( Nyttige tips og kombinasjoner for ferske dansere)
24.september Lørdag:
12.00-13.30: Kvinneteknikk-klasse del 2
13.45- 15.15 : One combination 4 orquestras ( Musikalitetsklasse, ett steg, med fire forskjellige kvaliteter avhenging av orkester )
15.30-17.00 : Milonga del 1
17.15- 18.45: Boleos og ganchos for crowded danse floor
25. september Søndag:
12.00- 13.30 : Kvinneteknikk-klasse del 3
13.45-15.15: How to suprise him/her ( Musikalitet og adorno klasse. Finn muligheter for hennes og hans pynt)
15.30- 17.30 : Milonga del 2
Klassene skal holdes i Jekteviken 5, Tango Abrazo
Pris: 200 per klasse per person
Påmelding: via deltager https://www.deltager.no/tango_kurs_med_zeynep_aktarsercan_yigit_23092016
Vi regner med at det blir rift om plassene! Men dersom det ikke er fulltegnet kan man også betale i døren.
Meld deg på som par (borsett fra kvinneteknikk), her kan du finne kursparter:https://www.facebook.com/groups/tangoabrazokurspartner/?fref=ts
Se video av Zeynep og Sercan her:
Mer info om paret:
Sercan has been into music since he was 15 years old. With this musical background, knowledge and experience, he can seamlessly fuse tango music into his dance. This also gives him the ability of transposing a unique musicality experience to his students during their classes.
Zeynep Aktar graduated from English Language and Literature, Bosphorus University. She had been performing theatre for 4 years before dedicating herself to tango.
She took stage many times. By means of firing up her devotion to
teaching with all this know-how, Zeynep developed an exceptional
style of communication with her students during class.
Since when they took their first steps long ago to tango dance, and they
decided to walk in the same path hand in hand. Along with their
trainings, they spent as much time as possible exercising,
experimenting, fine-tuning and consequently, they won the
championship at the tournament of Dance Sports Federation of Turkey
(TDSF) in 2012. After this favorable result, they were sent to Lyon,
France as «national candidates of Turkey» to compete in the
tournament of Int'l Dance Federation. They won the third place.
http://sercanyzeynep.com/?lang=en